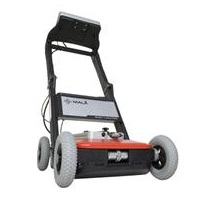 Easy Locator
MALÅ
The MALÅ Easy Locator is an easy to use, entry level Ground Penetrating Radar (GPR) system designed to meet your utility locating needs. The MALÅ Easy Locator is the tool of choice for those who need to quickly and easily identify the presence of buried utility infrastructure, both metallic and non-metallic.
Main Applications
The MALÅ Easy Locator caused a revolution when it was originally released and quickly established itself as the GPR tool of choice for utility applications, such as:
Utility detection
Utility mapping
Underground Storage Tank (UST) detection
Void detection
Locate service or illegal connections
Lost cover, valve, cable box or vault detection
And more...
Power supply

Li-Ion 11,1V battery

Operating time

Approx. 5h

Operating temp

-20° to +50°C (0° to 120 °F)

Environmental

IP65

Display

10.4" Color TFT Ultra-Hi-Brite or trans-reflective LCD

Dimension with wheels

67x47x19cm / 26"x19"x7" (excluding handle)

Weight

18 kg / 40 lb (Shallow)
19 kg / 42 lb (Mid)

Antennas

Shallow: 500 MHz. Shallow penetration, highest resolution
Mid: 350 MHz. Deeper penetration, high resolution.