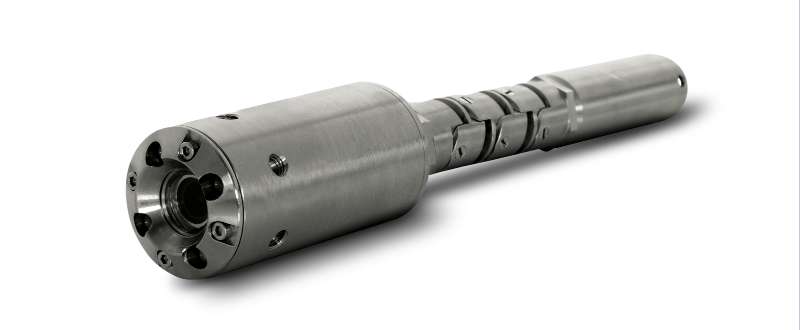 INVESTIGATOR™
AQUAM
The Investigator™ is an asset management and leak detection tool for insertion into pressurized pipelines up to 150psi.
The Investigator™ is a pressurized pipe inspection and leak detection system and is designed for 3' diameter pipework and above. Access through fire hydrants*, 1.5' and above pressure fittings, air valves, and gate valves at full mains pressure.
The system is mounted onto pipework through a selection of fittings and/or "hot tappings." This process makes access into the pipework simple and cost effective.
The Investigator is available in two variants, the Pro and E.
Monitoring the real-time data captured by the camera and hydrophone sensor head allows the operator to understand internal pipework conditions and identify leaks. A 300ft (100m) cable is supplied with the system which potentially offers a maximum inspection distance of 600ft (200m) upstream and downstream of the insertion point. This is influenced by pipe diameter, internal condition and the configuration of the pipe.
The software is specific for the Investigator™ technology and is used to control the sensor head and view both video and acoustic results from live surveys. The software displays video in a resizable window and also acoustic results in order of amplitude and frequency. The software also operates the sonde which is built into the camera sensor head. The system is compatible with LiveFeed software for maximum performance.
KEY FEATURES AND BENEFITS
Available in two variants, Pro and E
Tri sensor head (CCTV, hydrophone and sonde)
Pressurized insertion up to 150psi
Extremely robust camera head with bend mechanism
Interchangeable hi-resolution CCTV and hydrophone system
Internal hydrophone for precise leak detection
Sonde for above ground location
Ruggedized control station
Real-time analysis software





| | |
| --- | --- |
| Investigator Pro | Investigator E |
| 37mm Camera | 37mm Camera |
| 22mm Camera | Rigid Drum Assembly |
| Rigid Drum Assembly | Electronic Drive System |
| Flexrod Drum Assembly | Control Station |
| Electronic Drive System | |
| Control Station | |
Operational Requirements
| | |
| --- | --- |
| Operating mode | Tethered |
| Application | Potable |
| Pipe materials | All |
| Max. operating pressure | 150psi |
| Min. operating pressure | No limit for visual inspection and a minimum of 15psi for leak detection |
| Min. pipe diameter | 3" |
| Max. pipe diameter | 12" |
| Max. flow/velocity | No Limit |
| Min. flow/velocity | No Limit |
| Max. inspection distance | 600ft (200m) 300ft (100m) on either side of access point |
Insertion Requirements
| | |
| --- | --- |
| Access points | Fire hydrants, air valves, ball valves, hot tap |
| Min. tap diameter | 2" full bore min |
| Min. valve size | 2" full bore min |
| Min. external clearance | 6ft above insertion  fitting |
Specifications
Sensor head
Tri Sensor head with CCTV, Hydrophone and Sonde/22mm and 37mm(standard)/wide angle  optic fix
focus (PAL system) with illumination 3LUX at F1.2
Sensor material
Stainless steel and interchangeable
Sonde frequency
512hz
Hydrophone frequency
240Hz (Nominal)
Hydrphone beam pattern
Circumferencial: Omni +/-2dB up to 100kHz/ Horizontal: Omni +/-4dB up to 100kHz
Power
110-240v (Charging)
Operating temperature
23-104F (-5 – 40C)
Cable length
300ft (100m)
Cable drum
Assembly approx. 800x750x350mm with slip ring and encoder
Encoder accuracy
1%
Control box
Control box with Panasonic Toughbook with 12v internal power supply
Chlorination
Chlorination points built in to cable drive systems
Data processing
Investigator™ software, video and acoustic analysis software
Drive system
12vdc electronic drive system with seal arrangement